Riders of all levels are welcomed to trailer in for lessons at Cabin Branch Farm. Brittany is also willing to travel as her schedule allows for lessons and training rides. Please call or text for availability.
Horses are accepted in training at Cabin Branch Farm, with both full and partial training options designed to help cater to every horse's individual program and needs.
Brittany regularly attends multiple shows a year; both schooling and USEF, USEA, USDF recognized, offering multiple chances to get both horses and rider to gain experience in the ring at all levels.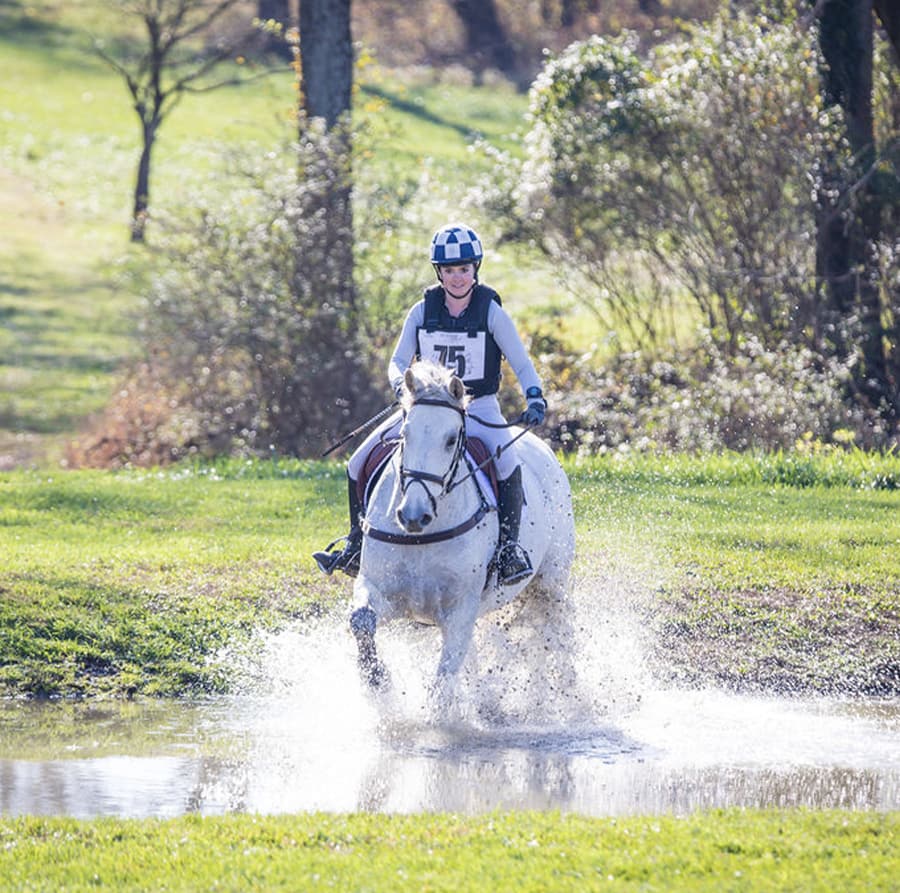 Patient & Positive
Patient and positive, Brittany understands what you need to do to improve and clearly communicates it. Working with Brittany for just one season has allowed me rebuild fundamentals with my longtime partner, Soufflé. Building on that, she helped elevate our riding to the next level. She has also been extremely valuable in starting my 4 year old. I am genuinely excited to see what we can accomplish in the long run with her consistent training.
Jess Sappenfield & Soufflé and SF Nominee
I Wish I Found Brittany Years Ago!
I wish I found Brittany years ago! She is amazing! Brittany is such a huge and important part of my mare's development into a jumper and now hopeful eventer. And she continues to make me a better, more aware, rider. My very sensitive mare has become much more rideable with our lessons and Brittany's training rides. Brittany breaks the questions down so both horse and rider understand them, and she gives you the skills to confidently answer them together as a team. Her focus on a solid foundation of flatwork brings a security to my jumping that I have never felt before riding with her, making height less of a concern. And to top off all the education and skills work that has been brought into my riding by Brittany, I am having so much fun, doing more with my mare than I ever thought possible!
Brittany Was A Game Changer For Me
Brittany was a game changer for me and my OTTB Banksy. I am an adult amateur, Banks was a green recently off-the-track horse that raced for over 8 years, so there was a bit of baggage to deal with. I was in over my head and wasn't really sure it was going to work out with me and Banks. Brittany came in the picture and bridged the communication gap. In a 6 month span I went from having a horse I honestly could hardly ride, and when I did was just a flat out stressful experience, to doing our first schooling show together! Brittany took him Beginner Novice and they always walked away with a top ribbon. Me and Banks are now working on going Novice this coming season and he has turned out to be an amazing partner! We are forever thankful to Brittany for the foundation she gave us, and I know Banks and I would not have the partnership we do today if it were not for her.
Her Goal Is To Make The Partnership One That Works For Both
I have known Brittany for about three years when she came into my life to help me, a "very senior" senior rider regain my confidence after dealing with a poorly matched horse. I was able to find a fabulous new four-legged friend and slowly but surely return to my old self. All with her help. She is patient, kind, intuitive, and extremely knowledgeable. Her ability to work with riders and horses of different levels and temperaments is remarkable. She is able to teach both the person and the animal in a way that is fun and rewarding. Her goal is to make the partnership one that works for both. That I have trusted her to compete my wonderful horse should be a testimony of how strongly I feel about her ability and dedication.
Works Well With Riders Of All Ages
My daughter, Sarah (15), started training with Brittany in April 2020. It's been a perfect match since her very first lesson. Brittany is very knowledgeable and accomplished in the world of eventing as well other disciplines. Brittany is a hard worker with an easy going personality, is easy to understand and works well with riders of all ages.

Sarah says, "I like training with Brittany because she is patient, doesn't yell and is nice."
KarolAnne and Sarah Wayland